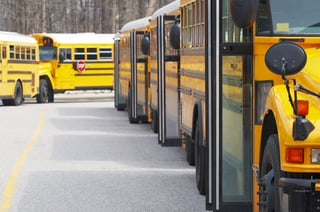 Have you thought about working as a school bus driver? With convenient training options that include drivers education online, becoming a school bus operator could be the right part-time job for you.
Finding flexible, satisfying employment is often hard to do. If your personality is a good fit for a school bus driver — there may be a big yellow school bus in your future.
Is being a school bus driver the right job for you?
As with any job, deciding whether you have the desire and aptitude to be a bus driver is the first step in considering a position with your local school district. Here are some of the qualities often sought by school districts for their driving staff:
Community oriented: Driving a school bus makes you a vital link between the community and the school district. As the eyes, ears, and wheels of the school district, you interact with people of all ages. Caring for children, listening to parents, and working with transportation staff is all part of being a courteous, approachable liaison to your school district. School bus drivers usually hold a special place in the hearts of children who travel to and from school every day. If you like people (especially kids!) — a school bus could be a good place for you.
Superior driving skills: Cautious, safe driving is one of the most important parts of being a school bus driver. A good driving record, specialized driving certifications, and a sharp eye for possible hazards are all key aspects of driving a school bus.
Flexible hours and benefits: School bus drivers are truly integral to their communities, and the benefits and pay offered to drivers reflects the importance of this role. Plus, you'll have the flexibility to work the hours you need, a must if you have children yourself, another part-time job, or just enjoy having free time!
Online driver's training and other education: Becoming qualified to drive a school bus does not require years of education, just a certification and training — which is often provided by your school district.
How to become a school bus driver
School bus drivers play an important role in their respective school districts. If you are interested in becoming a school bus driver, check with your school district of interest for their training and certification requirements. While there are federal school bus operator guidelines, state requirements tend to vary. If being a school bus driver sounds interesting to you, you can expect a couple of your new job requirements to include:
Commercial drivers license (CDL): A CDL is necessary to drive a school bus. Certifications are needed for transporting school passengers, as well. Be sure to check with state and school officials to understand what is required in your area.
As with many vocational certifications, some training, testing, identification, and a medical examination may be required. At the outset of qualifying for a CDL, you must pass a written test to obtain a commercial learner's permit (CLP) that allows you to gain practice and experience driving a commercial vehicle. Expect the CLP test to be similar to the test you took to obtain your personal driver's license — but with information related to safely handling large vehicles with specialized equipment and the loading and off-loading of passengers.
Training and eligibility requirements: Your school district may require classroom or bus driver education online. This may include state-specific safety programs, first-aid programs, as well as verifications concerning your driving record, ability to pass a criminal background check, and drug and alcohol test. The school district interested in hiring you will often pay for a portion of your training.
School bus drivers are in demand all across the country. District transportation personnel rely on bus drivers to safely transport precious cargo to and from school every day. If driving a school bus sounds like a job for you, talk with your local transportation officials, check out driver's education online classes, and get set for the rewarding and interesting road ahead.
Related articles: