February is Love the Bus Month! We are grateful year-round for the school bus drivers who safely transport our most precious cargo, and this month is the perfect time to show our gratitude. The American School Bus Council's (ASBC) Love the Bus campaign encourages parents, students, and teachers to take some time to honor the men and women who get our students to and from school every day.

The campaign promotes awareness of the essential, and sometimes overlooked, duties performed by school bus drivers and gives ideas on how to show your appreciation. School staff and students can share their "stories from the road," which feature anecdotes of individual bus drivers going above and beyond the call of duty. There are a ton of ways to love your bus and your driver – here are a few of our favorites.
Celebrate your school bus driver
A good way to acknowledge the hard work of a school bus driver is to learn more about what they do. The work of a bus driver starts long before the students get on the bus in the morning and requires extensive knowledge of transportation safety procedures. Understanding the many components of a driver's job will no doubt deepen your appreciation for all they do.
Teachers can help students celebrate Love the Bus Month at school with the ASBC's Valentine's Day lesson plan. This 40-minute unit includes school bus facts, safety tips, and printable "Thank You" cards kids can customize for their drivers.
Bus-themed gifts for kids to make and give

A simple, handmade gift is a great way to show your school bus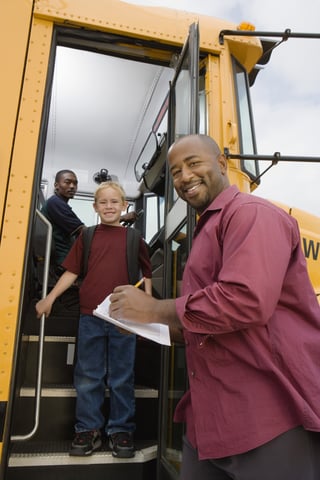 driver you care, and as a bonus, you get to spend some quality crafting time with the kids! These easy DIY projects are perfect for the bus driver in your life.


Stop sign thank you card:

Construction paper, glue, scissors, markers, and felt, are all you need to complete

this sweet craft

. Once the design on the front is complete

–

and the glue is dry

–

your child can write a message of appreciation for their driver inside.
School bus cookies:

Don't let the school bus yellow coloring throw you off, these cookies are seriously yummy! The

step-by-step instructions

for these tasty treats include a free, printable "Thank You" card to attach.
Certificate of Appreciation

: Make your appreciation official with this

free download

from ASBC. Your child can fill in the name of both their driver and school on the template, and present it to their driver. If you're not sure of your driver's name, the website also has an official

school bus driver name tag

available to print!
There's no wrong way to show your school bus driver they're appreciated. Just a simple "thank you" can go a long way. Happy Love the Bus Month from SafeStop!