The government recognizes that school buses carry precious cargo. That's why certain school bus safety laws were implemented to protect your children. In some states, school buses are even equipped with auto-sensing cameras that photograph motorists who violate school bus traffic laws.
New Jersey traffic rules for bus stops
School bus operations are regulated at the state level, which is why the laws and traffic rules for bus stops vary across the country.
What may be legal in one state may be illegal in another, and vice versa. For example, in Alaska, vehicles must stop for a school bus that is loading or unloading passengers. However, vehicles are not required to stop if they are on the opposite side of a divided highway.
Yet in New Jersey, if a vehicle is on a divided road and approaching from the front of a bus stopping to pick up or drop off a child, the driver of the vehicle must reduce speed to at least 10 MPH until passing the bus. Two other aspects of New Jersey school bus law you should be aware of include:
Seat belts:

New Jersey is one of the few states that has a lap belt law for school buses. According to the law, safety harnesses must be available at each seating position on the vehicle and must be worn properly adjusted and fastened by each passenger.

Stopped school bus:

When a school bus stops to receive or drop off passengers, motorists must halt their vehicles at least 25 feet from the bus. They must remain stopped until children have entered the bus or exited the bus and arrived safely across the street. Vehicles should not move until a flashing red light is no longer displayed by the bus.
So what constitutes a school bus?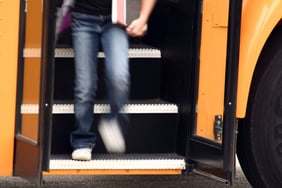 The above mentioned laws only apply to a legally identified school bus. According to the National Highway Traffic Safety Administration (NHTSA), a school bus is defined as follows:
"A school bus is a "bus" that is sold or introduced into interstate commerce for purposes that include carrying students to and from school or related events. A bus is a motor vehicle that has capacity of 11 persons or more (including the driver). This definition can include vans, but does not include buses operated as common carriers in urban transportation."
In addition to the NHTSA's definition of a school bus, each state may create their own definitions for what constitutes a school bus. However, they must still meet NHTSA requirements.
Helping your school choose the best bus stop location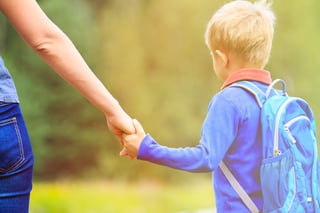 Depending on where you live, you may have concerns about your child's school bus stop location as it relates to school bus safety. If you believe the area to be unsafe in any way, immediately contact your school and request to have the stop moved. The characteristics to look for in a safe school bus stop location include:
Well-lit:

The bus stop should be well-lit and easily discernible by motorists and pedestrians alike. If your child is waiting in the early morning or in low-light conditions, ensure the stop is located near a street light.

Near-side:

School bus stops should always be near the roadside so passengers do not need to cross any type of roadway, regardless of how quiet the street appears to be.

Sheltered stops:

Depending on your area, you may wish to seek out a location that has shading from the sun, rain or snow.

Commercial area:

You may wish to have your bus stop location moved to or from a commercial area. In these locations, motorists are used to pedestrian traffic and thus your child may be safer. However, commercial areas contain malls, restaurants, stores and other distractions that may lure your son or daughter away from the bus stop.