Safety and convenience are two words every parent wants to read. The SafeStop mobile app offers parents and caregivers both.
Combining technology with the security that parents and school administrators need, SafeStop is a secure school bus tracking app that puts you in real-time communication with the bus your child rides. With service available anywhere in the country, SafeStop offers a robust array of expanded features including:
Track the Bus: Whether on dark mornings or sunny afternoons, parents and caregivers wait for children to board their bus to school and return home the same way. With SafeStop, you can view the movement of the school bus

on your smartphone

as it nears your bus stop. Watch the bus move through your neighborhood and stay up-to-the-minute on expected arrival times to ensure your child gets to the bus stop on time — without waiting in the dark or enduring bad weather. And after school, you won't have to wonder, "where's my bus" because you can see the progress of the bus toward your stop.
Stay Informed:

Too often, parents are unaware of school delays, closings, or other interruptions. Because SafeStop works collaboratively between the school district and its transportation providers, you can receive service notifications about your bus within the framework of the SafeStop app — keeping important school transportation information all in one place on your device.
How It Works:

SafeStop is the

go-to bus tracking app

in the United States. Compatible with any routing software and GPS hardware, SafeStop affiliates with school districts and transportation providers from coast to coast, (and beyond — Hawaii is on-board for the upcoming school year!). You can easily download our secure app through Google Play or the Apple store and immediately enjoy the benefits of the security and peace of mind that only SafeStop can deliver.
New this Year:

Keeping school children safe since 2013, SafeStop is introducing new features for parents this year, including improved notifications, an enhanced app interface, and identity scanning options for subscribed school districts.
SafeStop eliminates concern and frustration when the school bus is late — or early. Plan your own travel times better by knowing where your child is as they travel to and from school, simply by checking your smartphone.
Monitor bus performance from a secure dashboard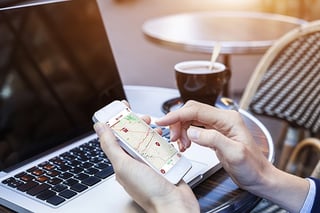 Offering peace of mind to parents, SafeStop helps transportation administrators monitor Key Performance Indicators (KPIs) including on-time data, route deviation — even data on bus idling and speeding. The SafeStop dashboard reflects not only the location but the performance of a bus fleet, even when multiple transportation or service providers are involved.
Notes Patrick Gallagher, Director of Sales at SafeStop, "Our SafeStop Analytics platform is the ultimate tool for Transportation Directors everywhere. It's easy to use and provides reliable data that can save money, see where transportation improvements can be made, and ultimately create a smoother running operation."
Whether tracking the whereabouts of your precious cargo, or delivering the analytics needed to boost performance and safety, SafeStop uses high performance technology that adds both safety and convenience to your busy day.