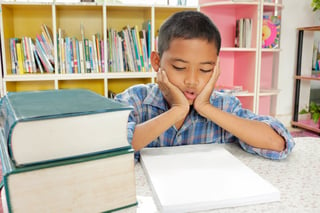 You want the best education for your son or daughter. But what defines the best education? Is it private schooling? Charter schools? Home schooling? Public schools? Some people believe the best form of education is a combination of traditional schooling and tutoring. Even though it has sometimes been seen as just "extra help" for students with failing grades, tutoring can be effective at bolstering math and reading skills prior to and during high school.
Tutoring is found to be an effective learning tool
In a recent study, the Department of Education found that properly structured tutoring programs are effective at improving children's reading scores. Students with tutors made significant gains in their reading level when compared to students who did not have tutors.
The following elements were identified as integral to a successful tutoring program:
Extensive training for tutors
Formal time commitments by tutors
Structured tutoring sessions
Careful monitoring of tutoring services
Close relationships between classroom instruction and curriculum and the tutoring services provided
If you are thinking about hiring a tutor for your child, make sure your tutor has been properly trained in the art of tutoring. Additionally, make sure the tutoring sessions are structured in coordination with your son's or daughter's current curriculum. Great tutoring will complement what your child is already learning at school!
Pros and cons of hiring a tutor
The benefits of hiring a tutor include:
Attention: Tutoring provides the student with personal one-on-one attention – without the many distractions of a classroom.
Learning time: Tutoring sessions give an extra time slot during which your son or daughter can focus on school work, studying, and preparing for exams.
Improvement in test scores: Speaking of exams, tutoring is proven to increase test scores after just a few sessions.
So what's the downside of hiring a tutor?
Cost: Great tutors can be expensive. If you're on a tight budget, a tutor may be out of your price range.
Accessibility: Depending on where you live, you may not have access to a tutor. For example, if you live in a rural area, you may have to drive a long way for your child to attend tutoring sessions.
Too much help? Some people believe children need to overcome their own obstacles in life. If tutoring isn't for your child, there's no reason you can't encourage them to put in a little after-hours effort on their own (or even join in yourself!).

Where can you find a tutor?
The ideal tutor should be well-trained, have substantial experience and a structured tutoring program, and be willing to cooperate with your child's teacher to coordinate curriculums.
When searching for the right tutor, you have many options:
Commercial: There are a number of commercial businesses that focus on tutoring children of all ages in math and English. Examples include Kumon, Sylvan Learning, and Huntington Learning Center. One advantage of using a commercial tutoring service is that they sometimes offer discounts or coupons for learning sessions.
Private tutors: Another option is to ask your child's teacher for a recommendation. Many retired teachers continue to give lessons on the side as tutors.
Online tutoring: In the digital age, we also have the option of using an online tutor. A few resources are Tutor.com, The Princeton Review, and Skooli.
After-school programs: Your child's school or another school in the area may offer an after-school tutoring program. Search online or ask your school's principal for more information.
In today's world, every advantage helps. To ensure your child does his or her best at school, consider hiring a tutor. Tutoring is an effective way to boost your son's or daughter's grades and ultimately, their confidence.