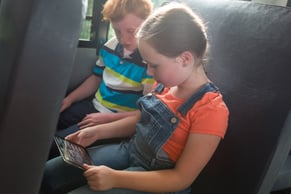 Technology-wise,

how does your school stack up? Are you using paper and pencils, or Android tablets and digital textbooks? Do students have access to remote learning? Does your school's bus fleet have WiFi so students and teachers can access the Internet while on the move?
Not too long ago (think early 2000's) a computer lab was the pinnacle of technology for any school. But today, technology has spread outside the lab and into the classroom. Many of your students spend each morning and afternoon on the school bus, so shouldn't your school bus fleet get with the times?

Technology options available for your school bus fleet
At its best, technology provides knowledge, safety, and productivity. At its worst, it involves robots out to destroy the world... at least in many science fiction films. Fortunately, we have a few more years before the global robot uprising begins, so let's focus on student transportation technology for now.
The following list contains some technology options that may be beneficial to your school's bus fleet:
Telematics:

The most important piece of technology you can adopt for your buses may be

telematics

. With telematics, you gain a fleet of smart buses that connect to an online system. This allows you to use GPS data to find the best routes. Additionally, you can view pre-trip and post-trip inspection reports to ensure your fleet is running safely and efficiently. With the diagnostic tool, you can fix maintenance issues before they get worse or require outside assistance. With telematics, you have the potential to greatly reduce bus downtime and lower your total cost of ownership.
WiFi:

The idea of making a big yellow bus WiFi-enabled may seem odd. However, your school bus fleet can benefit greatly from Internet connectivity. For one, students have something to do instead of fidgeting in their seats or being disruptive. It also provides access to school work for teachers, coaches, and students who ride the bus.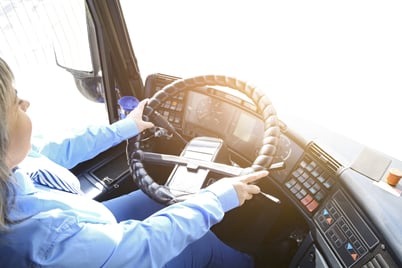 Video monitoring:

You're probably wondering why

video monitoring

is on this list. After all, it's been around for years. While your fleet may already have

security cameras

in place, think about the last time they were updated. Newer systems are recorded to hard drives, or, if your bus is WiFi-enabled, video data is saved to a server. Additionally, more advanced cameras are smaller and provide greater picture quality and audio fidelity. You can also equip your fleet with external weatherproof cameras.
Fast-cooling AC system:

In states like Texas and Florida, a school bus baking in the sun is the last thing a bunch of students should have to endure after a long day.

Modern AC systems

are smaller, less noisy, and can cool down a school bus five minutes faster than most state-required air-conditioning systems.
SafeStop:

Simple yet powerful,

SafeStop

is more than just a school bus tracking application. It minimizes phone calls to the terminal or administration from parents by making it easy to mass-communicate — type one message and hit send to everyone. Additionally, SafeStop provides alerts and messages for school bus delays or early school dismissal. As a parent, you can track your child's school bus in the morning to ensure it's on time. You can also track your child's bus to ensure the driver is taking a safe route to or from the school.
Sleeping child alarm system:

Bus seats are taller than standard seats to protect children in the event of an accident. Yet they make it easy for sleeping children to remain hidden from a bus driver who is leaving his or her vehicle in the lot for the night. A sleeping child alarm system requires the driver to walk through and check every seat before exiting the vehicle at the end of their route.


Every year, new technology is developed that may impact your school's bus fleet. Some technology options, like the ones above, are capable of improving safety, increasing productivity, and making our lives more convenient. Whether you are a transportation director or school administrator, you may want to keep up-to-date on the latest ways to improve every aspect of your school — including your school bus fleet.