INTRODUCTION
As the industry's leading school bus tracking app and analytics platform, SafeStop is pleased to present our new 4-part Blog Series, What to Know When Considering a Vehicle Tracking App. In this series, we will be sharing our expertise and insight on topics such as how to evaluate your current systems for compatibility with the app your district is considering; realistic timelines for onboarding, implementation, and training; troubleshooting your new app software and integration; how to manage parent expectations, and more.
PART 2: The Timeline You Can Expect
When it comes to rolling out a school bus tracking app, timing can vary greatly for school districts in terms of setting up their system -- from two weeks to half a year. The discovery phase, technical requirements, and different route variations for different school districts can influence the timeline of getting a new system started. Transportation departments need to know their to-do items in order to get an accurate timeline and create the most effective system possible.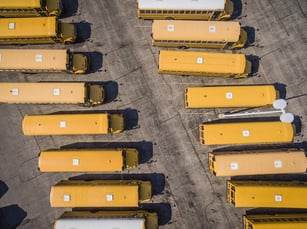 Discovery Phase: Since school districts come in all shapes and sizes, the most important part of setting up a new school bus tracking app is the initial setup. No two school districts are alike, so it's essential for analytics platforms such as SafeStop to learn how districts execute their transportation operations. A private school system that runs 10 buses -- 10 in the morning and 10 in the afternoon at the same bus stops -- will differ greatly in its tracking requirements compared to a larger district with daily or weekly intricacies. A common misconception is that tracking apps don't work well for large districts with variations. This isn't the case at all. Service providers simply need to know what those variations are in order to create a plan.

Technical Phase: As part of that plan creation process, no matter the size of the school district, SafeStop and other bus tracking app platforms learn how all of the technical systems work together within the transportation operation. Aligning GPS and routing software, for instance, may extend the timeline for rolling out an app. As soon as the different routes are planned out, including after school activities or special exceptions if needed, vendors can move forward with actual integration.

Integration Phase: During this vital process, bus tracking app providers monitor the GPS units on each bus to understand how the transportation system works as a whole on a daily basis. They then account for the differences between planned and "actual" bus runs, and address any hiccups that arise before launching to stakeholders such as parents. SafeStop, for instance, works hand-in-hand with school districts to account for the tracking app updates that must occur when bus maintenance, inclement weather, and travel delays deviate from the planned schedule.


Internal Launch: The most acclaimed bus tracking apps on the market also run an internal launch with transportation staff and school district administrators to ensure that all systems run smoothly, even when unexpected changes happen. When choosing a bus tracking app platform, district officials should look for a vendor that integrates with GPS and route providers and communicates with them to understand what's working and what's not, as the tracking app goes into place.

External Launch: The final piece of the puzzle launches the bus tracking app to the wider community, including all integrated systems, support staff at the district level, and parents who want to use the app to track their students getting on and off the school buses. During this phase, the most reputable tracking app platforms work with school districts until the very end, ensuring that back end analytics systems run smoothly and that communication portals with parents are up-to-speed and ready to handle questions.
Ready to learn more about how SafeStop integrates seamlessly with any GPS vendor, any routing software, and any fleet configuration? Give us a call or click the button to get started.