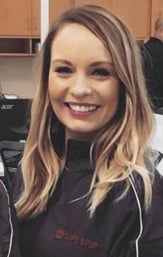 When our customers ask us, "What is the best part of working at SafeStop?" The answer is of course, our people! Every month we spotlight one of our awesome employees. These spotlights will highlight their experiences, accomplishments at SafeStop, and fun facts about what makes them great!
This July, we're featuring Nina Craver, Marketing & Communications Associate.

What is your role with the team?
Marketing & Communications Associate
What is your personal motto?
"Be the type of person you would want to meet."
Are you iPhone or Android?
iPhone
What's your favorite app (other than SafeStop, of course...)?
Find Me Gluten-Free...it's a hard life.
Which social network do you spend the most time on?
Instagram
What was your high school mascot?
Black Knights
What's your favorite sports team?
USA Gymnastics - does that count? (Of course it does! USA! USA!)
Who's your favorite blog to read?
Iowa Girl Eats. Food = Life!
Who's your favorite band or musician?
Currently, Alabama Shakes
What's the last movie you saw in the theater?
Bad Moms