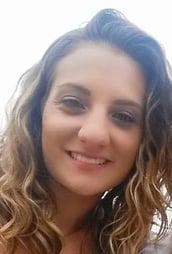 When our customers ask us, "What is the best part of working at SafeStop?" The answer is of course, our people! Every month we spotlight one of our awesome employees. This employee spotlight will highlight their experiences, accomplishments at SafeStop, and fun facts about what makes them great!
This March, we're featuring Marissa Felitto, our Graphic Designer.

What is your role with the team?
I am working with SafeStop's Marketing Department, as the Graphic Designer.
What is your personal motto?
"The hardest part is getting started"
Are you iPhone or Android?
iPhone
What's your favorite app (other than SafeStop, of course...)?
Airbnb
Which social network do you spend the most time on?
Pinterest
What was your high school mascot?
Pirate
What's your favorite sports team?
NY Yankees
Who's your favorite band or musician?
It's hard to say, at the moment, I'll go with Matchbox 20

What's the last movie you saw in the theater?
Office Christmas Party