A quality infographic is worth a thousand words. Put simply, an infographic is a graphic that lays out information in a visually accessible format. Infographics are a great tool for teachers, school administrators, and transportation directors to quickly learn or teach others about safety tips, teaching methods, and new classroom technology.
A short list of noteworthy educational infographics for teachers
The best part of a good infographic is that it conveys key points and core concepts in a fun and interesting way. What would you rather do — wade through a paragraph of content or glance at a fun picture with summarized info? Infographic inspiration is the way to go.
We've rounded up some well-devised infographics on schools, students, and school buses:
Virtual Reality in the Classroom:
Virtual reality is here, and it's not just for gaming or watching movies. VR has tremendous potential as a teaching tool for any classroom. This educational infographic quickly explains how virtual reality can help reduce the cost of field trips, encourage creativity, and excite students to learn. It also shows that VR is currently being heavily used in the sciences. Imagine if your students could "travel inside" the human body or conduct experiments safely in a virtual lab!

Community Benefits of School Buses:
Everyone agrees that going green is beneficial to the environment. So how do school buses fit in? As this infographic shows, school buses cause less traffic, result in cleaner air, and are safer and more affordable than passenger cars. You'll also find a wealth of facts about the community benefits of school buses. For example, did you know that school buses keep 17 million cars off the road each year?

How Long is a School Bus?
Are you a transportation director looking to increase your fleet size or looking to rent a bus for a special event? Learn about the different types and sizes of buses available in this infographic. Some buses are ideal for transporting elementary school children, while others are best suited for transporting high school sports teams and their equipment. The educational infographic in our blog post, 'How Long is a School Bus,' explains the differences between specific bus types and gives their specs. After reading, you should have a better idea of the type of bus that's right for your needs.

Benefits of Wi-Fi on School Buses:
A Wi-Fi-enabled bus fleet has many benefits. This infographic uses statistics and facts to explain the benefits of having Wi-Fi on buses. These benefits include deterring behavioral problems, allowing students to do homework and check schedules, and enabling teachers and coaches to work.

School Bus Safety for Drivers:
Anyone who drives a car should take a look at this infographic. In addition to providing interesting statistics on school buses, it effectively explains the rules of the road when driving near school buses. For example, did you know that the danger zone when a bus is dropping off passengers is 10 feet? Or that when a school bus is stopped, all vehicles on the same road must also remain stopped until the bus begins moving again?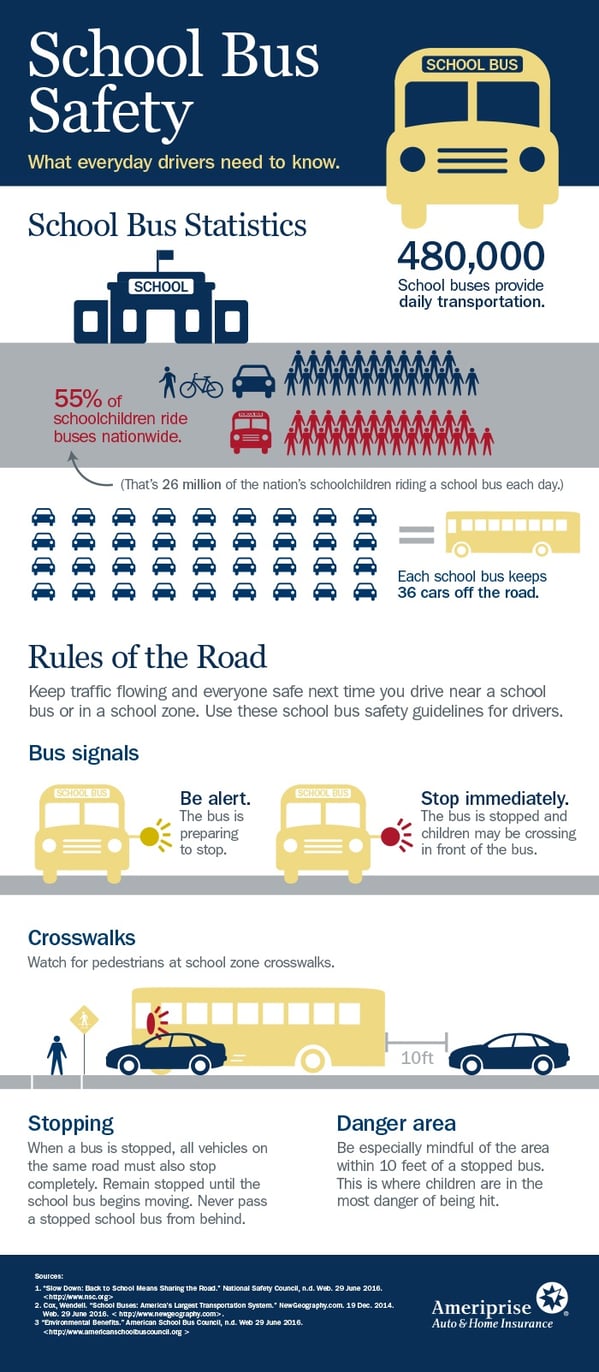 Whether you are parent, teacher, or school administrator, your time is valuable. When you need information, you can't stop everything and read a lengthy article. Educational infographics can provide you with factual, organized information so you quickly learn about an issue. An effective infographic should inspire and excite educators, parents, and students alike.